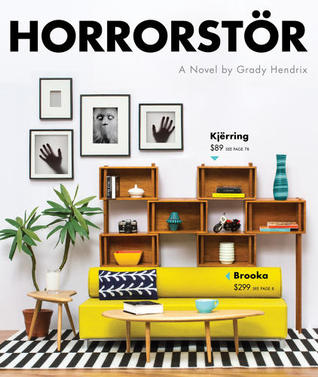 Grady Hendrix's Horrorstor is a good old-fashioned haunted house story. This is, on the surface, an odd observation to make of a novel formatted like a retail catalogue, and set in Orsk, a furniture store with more than a passing resemblance to Ikea. Hendrix has a great deal of fun with the concept. Each chapter opens with an entry in the Orsk catalogue complete with order forms and increasingly skewed product descriptions. The satire of consumer culture and all its absurdities lends the novel a humor and energy it might have otherwise lacked.
The horror story itself, beneath the playful structure, is more traditional. The local Orsk branch has been built on the site of a 19th Century prison and recently there have been mysterious acts of vandalism. Amy, a disgruntled but willing employee and her boss, Basil agree to stay overnight and discover the source of the vandalism. The result is part retail drama and satire, part 19th Century horror. Hendrix has a firm grasp on the tropes of the genre and creates engaging protagonists in Amy and Basil. Likewise, the horror is not without its thrills and scares.
The real originality in Horrorstor, and the reason I was excited to read it, was in the setting and format. There is a deep sense of enjoyment to the novel, a sense that Hendrix was having a blast coming up with the catalogue entries and twisting it into horror. Personally, I have never been a great proponent of the genre, so the turn from dark, quirky satire to more traditional horror was not entirely to my tastes. Nevertheless, I appreciate the creativity, thought and exuberance that went into Horrorstor. Recommended.
---
Horrorstor can be found here on Amazon.
Received a Copy From NetGalley For Review