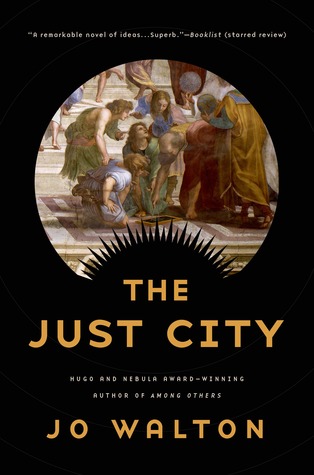 Jo Walton's The Just City
is a wildly ambitious thought experiment masquerading as a novel featuring Greek Gods and philosophers from across history attempting to establish Plato's Republic. Walton has gone back to one of the sources of utopian thinking and interrogates it lovingly and playfully. It requires a special level of ambition to feature a debate between Athena and Socrates over the viability of the Republic, while emancipated robots from the future watch. Populated from across history with fictional and historical scholars and men of letters ranging from Cicero to Mirandola, Lucrezia Borgia, and Bengamin Jowett, The Just City is deeply, and gleefully thought-provoking.
When the mythological Daphne turns herself into a tree rather than submit to his amorous intentions, Apollo is puzzled and turns to Athena for an explanation. In the process he is drawn into her scheme to build Plato's Republic. Becoming mortal, he struggles to understand what it means to be human, and the importance of personal agency. He falls in love with Simmea, a former slave and Socrates' most beloved pupil, and in the process comes into conflict with Athena and Plato over the running of the city.
Walton's dizzying array of gods and humans, of utopin thought, philosophical debate, and personal choice never quite reaches the lofty heights it aims for, but this is not for lack of trying. The concept at the heart of The Just City
has been gestating in the author's mind since she was fifteen. This is clearly a labour of love, and Walton knows her philosophers and has thought deeply about how their ideas might interact. She is occasionally heavy handed in making her larger points, but that is the nature of the material. Over all, The Just City was an impressive endeavour. Highly Recommended.
---
The Just City can be found here
 on Amazon.
Received a Copy From NetGalley For Review